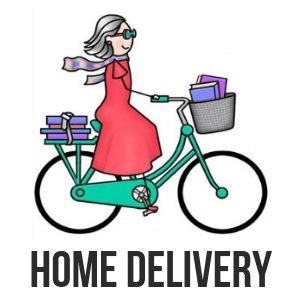 Home Delivery
Can't get to the library? Library staff deliver items to homes.
After the COVID danger passes, the library will regularly bring a cart of materials to senior housing sites for checking out. Major thanks goes to a grant from the Baldwin Woodville Area Foundation for the cart!  In the meantime, library staff will happily deliver to your home or a public site your library materials.  Please call us at 715-684-3813 to let us know how we can help you.
      Services
Job Seeker Services (see this link)
Public computers, WiFi
Public-use copy machine (10 cents per page)
Color printing and copying  (25 cents per page)
Scanning to email (no charge)
Faxing: $1.00
Lamination (temporary license plates, health insurance cards, etc.)- $2.00 full page, 50 cents for small card) 
Projector: may be borrowed
Tax forms: Federal forms and state of Wisconsin
Disc cleaning ($2.00 per disc)
Transfer of VHS to DVD to preserve memories ($10 per tape, includes disc)
Internet and Computer Use Policy and Agreement
See the Internet and Computer Use Policy with Guardian Form
The Baldwin Public Library provides public access to the Internet to expand our information services beyond the library collection.  The Internet is a valuable tool for learning and offers adults and children experiences that are both educational and rewarding.  However, the Internet has also raised concerns.  It can present unsafe situations.
The Internet is a non-centralized, non-moderated global network; the Baldwin Public Library has no control over the content found there.  The library does not censor access to material to protect users from offensive information.  The library is not responsible for the availability and accuracy of information found on the Internet.
It is important that parents or guardians guide and supervise their child's use of the Internet just as they guide and supervise their children's reading and television viewing at home.  Monitoring your child's use of the Internet is not the library staff's responsibility.  Parents of minor children must assume responsibility for their children's use of the library's Internet service prior to being granted access to the Internet by filling out the enclosed form to be kept on file at the library.
Access to the Internet is available to all patrons; however, this service may be restricted at any time for use not consistent with the guidelines.  Users should be aware that the inappropriate use of electronic information resources can be a violation of local, state, and federal laws and can lead to prosecution.  The user will be held responsible for his/her actions using the Internet.  Users are expected to abide by the policies below, which include generally accepted rules of network etiquette.  Unacceptable uses of the service will result in the suspension or revocation of Internet use privileges.
We reserve the right to restrict visual images. If a user is viewing images determined to be objectionable by a library staff member, the user will be asked to exit from that site.  If the user is found viewing objectionable materials a second time, their Internet session will be terminated. 
The library cannot assure that data or files downloaded by users are virus-free.  The library is not responsible for damages to equipment or data on a user's service.
EXPECTATIONS
Children in 1st grade and below must be accompanied by a parent or guardian while using the computer for Internet access.
Students in 2nd grade up to age 17, along with a parent or guardian, must sign the Internet Use Agreement.
All users must sign in on the log at the front desk with their name and start time so that the library staff can check on time expired if there are waiting patrons. Internet use is offered in thirty (30) minute sessions on a first-come, first-served basis.  Each user is allowed one session.  If there is no patron waiting for the service at the end of a session, the user may have another 30 minute session, but once having had the service for the first 30 minutes, the user must leave the computer station if another patron requests it.  The staff might make exemptions occasionally for class work or employment applications, etc. but the general maximum time usage per day per person will be two (2) hours).
Users may use the Internet for the receipt and transmission of electronic mail (e-mail) as long as they use a free e-mail service such as Google mail or Yahoo.com which will maintain an account for them.
Users will respect and uphold all applicable laws including copyright laws, and will not use the Internet for illegal purposes. Such purposes include the posting and/or viewing of child pornography, harassing behavior, and / or posting of inflammatory or threatening messages.  According to the US Patriot Act, the library might be required to allow federal authorities access to computer viewing history if subpoenaed.
Users will respect the rights and privacy of others by not accessing private files or using accounts owned by other users without their permission.
Users shall not incur any costs for the library through their use of the Internet service.
Users shall not create and deposit or distribute computer viruses or any other malicious programs onto the library's computers or over the Internet.
Users shall not deliberately or willfully cause damage to computer equipment, programs, or parameters, or change in any way the computer system, settings, desktop, or equipment.
Users shall not put stress on the public technology resources designed for educational purposes by overusing gaming, movie viewing, downloading music, etc. or other activities, to be determined by staff.
Users may print from the computer for $0.10 per copy.
Users shall not use the computer to gain access to unauthorized resources or entities (hacking).
Public WIFI: Wireless Access to the Internet Policy
Wireless Access to the Internet Policy
Free, unfiltered wireless Internet access is available at the Library. Customers are cautioned that security for personal data and wireless devices rests solely with the owner of the wireless connection device, not the library.
Baldwin Public Library
400 Cedar Street
P.O. Box 475
Baldwin, WI 54002
Phone 715-684-3813
Limited Hours
Mon, Wed, Fri 10:00-4:00pm
Tues & Thurs 2:00-6:00pm
Curbside still available.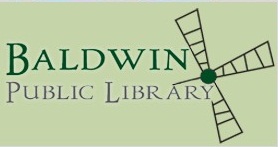 Baldwin Library is Hiring: 
Circulation Assistant, part-time
The Baldwin Public Library seeks a detail oriented, outgoing person with excellent customer service skills, who can perform a variety of clerical tasks at our Circulation Desk.   The Library Circulation Assistant welcomes the public, checks in and out books and other materials on a library automation system, shelves books and other materials, suggests further reading, helps with reference and research, and performs a variety of other duties related to supporting the reading public. 
Applicants must love reading a wide variety of genres and have a broad general knowledge so can assist customers in finding reading material and accurate information.  Must enjoy working with people of all ages and backgrounds and understand the importance of creating an atmosphere safe for diversity and supportive of equality, per American Library Association direction.  Need be able to multitask and stay calm.  Computer literacy with MS-Windows is essential.   Must be able to lift and move light to medium weights, and work while standing.   Experience with a library circulation system is desirable.   Familiarity with digital platforms for reading and social media is desirable. 
This position is currently for approximately 8 hours per week (Thursdays either 3-6 or 4-7 plus one Saturday morning per month, plus one other shift to be determined).  We value flexibility and dependability and try to respect staff life priorities.  As the library reopens further after COVID-19 with expanded hours there will be an opportunity to gain more hours.  Position is part-time with no benefits at this point except paid holidays after one year.  The library plans to begin expansion within the next year or two and wishes to hire someone who can commit to remaining in the position for a while and contributing to this exciting period.  We hope to start training as soon as possible.    Starting wage is $13/hour. 
Please email your resume to Rebecca Dixen at: baldwinlibrary@baldwinlibrary.org
Circulation Assistant Full Job Description:
Position Summary:
The Circulation Assistant is responsible for the orderly operation of the circulation desk and general clerical functions in the library.  This position is part time hourly that may include nights and weekends.
Qualifications:
Education: High school diploma or equivalent, prefer some college-level education or experience with doing research from authoritative sources.
 Experience: Prefer previous library experience.  Computer skills and ability to use software and systems is required.
Job Responsibilities:      (The following statements are intended to describe the general nature and level of work being performed by the person assigned to this position. This job description does not state or imply that the above are the only duties and responsibilities assigned to this position. Employees holding this position will be required to perform any other job-related duties as requested by management. All requirements are subject to possible modification to reasonably accommodate individuals with a disability.
Circulation Tasks
                                Check materials in and out.
                                Answer phone and directs calls with proper etiquette.
                                Register patrons according to library procedure.
                                Describe library services to patrons.
                                Maintain and update patron records.
                                Assist customers with the library catalog.
                                Assist patrons with computers, copier, and faxing.
                                Assist with opening and closing procedures.
                                Call patrons concerning holds and problem items.
                                Maintain meeting room calendar and reserves meeting rooms.
                                Attend staff meetings and actively participate.
                                Collects materials from book drops.
                                Assists in training new staff as requested.
Shelving Tasks
                                Shelves library materials according to library practices.
                                Shelf-reads the collection for proper arrangement of materials.
                                Alerts supervisor to problem shelving areas.
                                Maintains knowledge and skills for completing library services and procedures.
                                Maintains display items properly.
Customer Service Tasks
Give customers full attention.
Demonstrate a commitment to offer the best customer service.
                                Be tactful, courteous, honest and diplomatic to all patrons.
                                Demonstrate a positive public image to patrons and teammates.
Teamwork Tasks
                                Interact with teammates.
Think creatively and provide ideas on how to better perform tasks.
                                Speak respectfully and courteously to patrons and teammates.
Asks supervisor when there is a question or concern about library policy or job tasks.
                                Demonstrate a willingness to learn from teammates and take direction.
 Provide additional assistance and perform additional duties as assigned.
Personal Attributes Required:
                                Must gain basic knowledge of library services and procedures, related software/systems, policies and procedures.
                                Must gain detailed knowledge of circulation system, security system and related procedures.
                                Must be pleasant, helpful, well organized and detail oriented.
                                Must be patient and able to respond helpfully in situations where patrons may be impatient or exhibit frustration.
                                Must demonstrate the ability to establish and maintain effective relationships by using appropriate interpersonal skills.
                                Must understand the need for teamwork, timeliness, accuracy and service.
                                Must be able to maintain self-control without exhibiting negative behaviors.
                                Must be able to assume responsibility and work with a high level of independence.
 Essential Physical/Mental Requirements:
Must be able to stand, kneel and walk for prolonged periods, with or without back support.
                                Must be able to perform medium work, frequently lifting 30 pounds and infrequently lifting or pushing more than 50 pounds without assistance.
Must be able to communicate effectively with library patrons and employees both in person and over the telephone to provide information and assistance.
                                Must be able to move throughout the facility.
Must be able to reach in all directions and bend/stoop to use library/office equipment and shelve materials.
                                Dexterity and hand/eye coordination necessary to use keyboard, circulation system, office, and audio/visual equipment.
                                Visual activity requires the ability to tolerate periods of close paperwork and use of computer screen.
                                Hearing activity requires the ability to participate in numerous conversations throughout the work day both in person and over the telephone.
                                Must be able to complete job duties in an environment where some background noise and frequent interruptions are the norms.
                                Must demonstrate ability to utilize proper grammar, spelling, punctuation and basic math.
                                Must be able to communicate effectively both orally and in writing, follow instructions, and be able to comprehend complex written material or directions.
Library Mission Statement
We believe in the freedom to read, to learn, to discover and share ideas.
We provide free and equal access to books, programs, electronic media, and other resources as well as professional guidance in finding and using them.
We offer cultural and educational experiences through opportunities for lifelong learning, spaces to connect and engage, and by fostering a love of reading and commitment to literacy.
As our town grows and changes we will continue to enrich the quality of life here by maintaining a community center that is a vibrant and welcoming place.