Open With Limited Hours: Mon/Wed/Fri 10-4pm, Tue/Thu 2-6pm
Curbside still available, call 715-684-3813
Masks and hand sanitizer required and provided by library before entry.
Explore the Digital Library
Resources included with your library card…
Baldwin Public Library
400 Cedar Street
P.O. Box 475
Baldwin, WI 54002
Phone 715-684-3813
Limited Hours
Mon, Wed, Fri 10:00-4:00pm
Tues & Thurs 2:00-6:00pm
Curbside still available.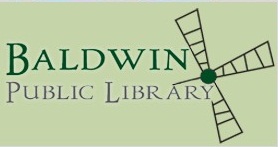 Baldwin Library is Hiring: 
Circulation Assistant, part-time
The Baldwin Public Library seeks a detail oriented, outgoing person with excellent customer service skills, who can perform a variety of clerical tasks at our Circulation Desk.   The Library Circulation Assistant welcomes the public, checks in and out books and other materials on a library automation system, shelves books and other materials, suggests further reading, helps with reference and research, and performs a variety of other duties related to supporting the reading public. 
Applicants must love reading a wide variety of genres and have a broad general knowledge so can assist customers in finding reading material and accurate information.  Must enjoy working with people of all ages and backgrounds and understand the importance of creating an atmosphere safe for diversity and supportive of equality, per American Library Association direction.  Need be able to multitask and stay calm.  Computer literacy with MS-Windows is essential.   Must be able to lift and move light to medium weights, and work while standing.   Experience with a library circulation system is desirable.   Familiarity with digital platforms for reading and social media is desirable. 
This position is currently for approximately 8 hours per week (Thursdays either 3-6 or 4-7 plus one Saturday morning per month, plus one other shift to be determined).  We value flexibility and dependability and try to respect staff life priorities.  As the library reopens further after COVID-19 with expanded hours there will be an opportunity to gain more hours.  Position is part-time with no benefits at this point except paid holidays after one year.  The library plans to begin expansion within the next year or two and wishes to hire someone who can commit to remaining in the position for a while and contributing to this exciting period.  We hope to start training as soon as possible.    Starting wage is $13/hour. 
Please email your resume to Rebecca Dixen at: baldwinlibrary@baldwinlibrary.org
Circulation Assistant Full Job Description:
Position Summary:
The Circulation Assistant is responsible for the orderly operation of the circulation desk and general clerical functions in the library.  This position is part time hourly that may include nights and weekends.
Qualifications:
Education: High school diploma or equivalent, prefer some college-level education or experience with doing research from authoritative sources.
 Experience: Prefer previous library experience.  Computer skills and ability to use software and systems is required.
Job Responsibilities:      (The following statements are intended to describe the general nature and level of work being performed by the person assigned to this position. This job description does not state or imply that the above are the only duties and responsibilities assigned to this position. Employees holding this position will be required to perform any other job-related duties as requested by management. All requirements are subject to possible modification to reasonably accommodate individuals with a disability.
Circulation Tasks
                                Check materials in and out.
                                Answer phone and directs calls with proper etiquette.
                                Register patrons according to library procedure.
                                Describe library services to patrons.
                                Maintain and update patron records.
                                Assist customers with the library catalog.
                                Assist patrons with computers, copier, and faxing.
                                Assist with opening and closing procedures.
                                Call patrons concerning holds and problem items.
                                Maintain meeting room calendar and reserves meeting rooms.
                                Attend staff meetings and actively participate.
                                Collects materials from book drops.
                                Assists in training new staff as requested.
Shelving Tasks
                                Shelves library materials according to library practices.
                                Shelf-reads the collection for proper arrangement of materials.
                                Alerts supervisor to problem shelving areas.
                                Maintains knowledge and skills for completing library services and procedures.
                                Maintains display items properly.
Customer Service Tasks
Give customers full attention.
Demonstrate a commitment to offer the best customer service.
                                Be tactful, courteous, honest and diplomatic to all patrons.
                                Demonstrate a positive public image to patrons and teammates.
Teamwork Tasks
                                Interact with teammates.
Think creatively and provide ideas on how to better perform tasks.
                                Speak respectfully and courteously to patrons and teammates.
Asks supervisor when there is a question or concern about library policy or job tasks.
                                Demonstrate a willingness to learn from teammates and take direction.
 Provide additional assistance and perform additional duties as assigned.
Personal Attributes Required:
                                Must gain basic knowledge of library services and procedures, related software/systems, policies and procedures.
                                Must gain detailed knowledge of circulation system, security system and related procedures.
                                Must be pleasant, helpful, well organized and detail oriented.
                                Must be patient and able to respond helpfully in situations where patrons may be impatient or exhibit frustration.
                                Must demonstrate the ability to establish and maintain effective relationships by using appropriate interpersonal skills.
                                Must understand the need for teamwork, timeliness, accuracy and service.
                                Must be able to maintain self-control without exhibiting negative behaviors.
                                Must be able to assume responsibility and work with a high level of independence.
 Essential Physical/Mental Requirements:
Must be able to stand, kneel and walk for prolonged periods, with or without back support.
                                Must be able to perform medium work, frequently lifting 30 pounds and infrequently lifting or pushing more than 50 pounds without assistance.
Must be able to communicate effectively with library patrons and employees both in person and over the telephone to provide information and assistance.
                                Must be able to move throughout the facility.
Must be able to reach in all directions and bend/stoop to use library/office equipment and shelve materials.
                                Dexterity and hand/eye coordination necessary to use keyboard, circulation system, office, and audio/visual equipment.
                                Visual activity requires the ability to tolerate periods of close paperwork and use of computer screen.
                                Hearing activity requires the ability to participate in numerous conversations throughout the work day both in person and over the telephone.
                                Must be able to complete job duties in an environment where some background noise and frequent interruptions are the norms.
                                Must demonstrate ability to utilize proper grammar, spelling, punctuation and basic math.
                                Must be able to communicate effectively both orally and in writing, follow instructions, and be able to comprehend complex written material or directions.
Library Mission Statement
We believe in the freedom to read, to learn, to discover and share ideas.
We provide free and equal access to books, programs, electronic media, and other resources as well as professional guidance in finding and using them.
We offer cultural and educational experiences through opportunities for lifelong learning, spaces to connect and engage, and by fostering a love of reading and commitment to literacy.
As our town grows and changes we will continue to enrich the quality of life here by maintaining a community center that is a vibrant and welcoming place.